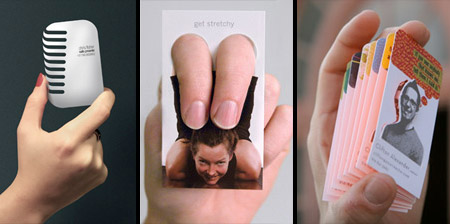 Having a well designed business card will help you build your brand and attract new customers. This post showcases unique custom shaped business cards.
M. Brady Clark Business Card
Personal business card of a talented logo and apparel designer. [link]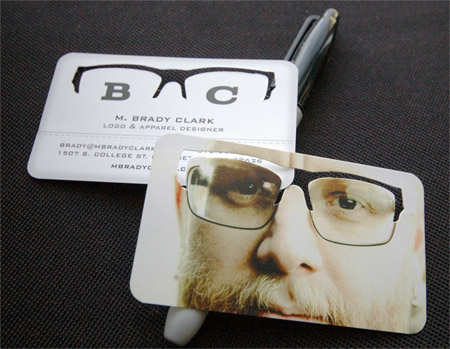 Mineral Water Business Card
Cool business card designed for a company that sells mineral water. [link]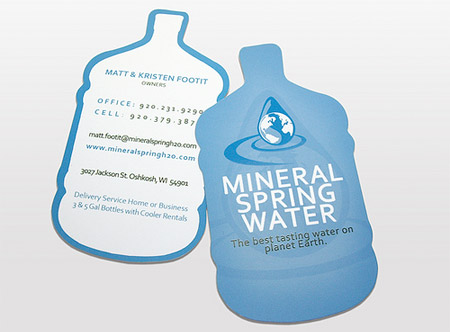 Ordered List Business Card
Stylish business card with one rounded corner and a die cut logo. [link]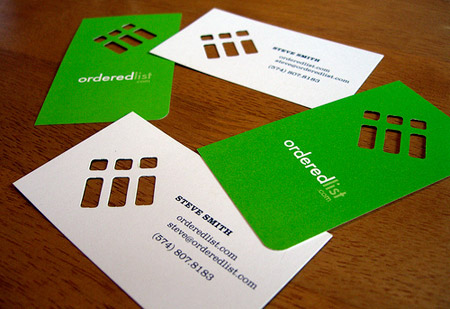 Mixtape Generation Business Card
Audio cassette tape shaped cards with handwritten phone number. [link]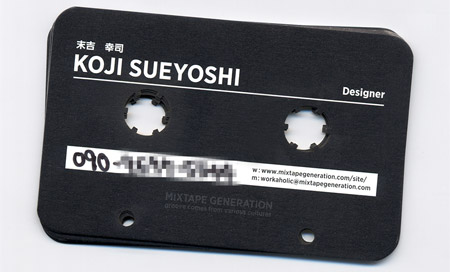 Orderin Business Card
Clever business card designed for a food ordering portal in Montreal. [link]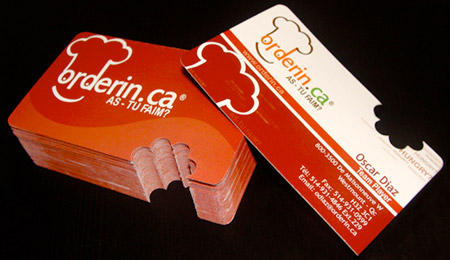 124 Design Business Card
Modern business card features a die cut logo and foldable design. [link]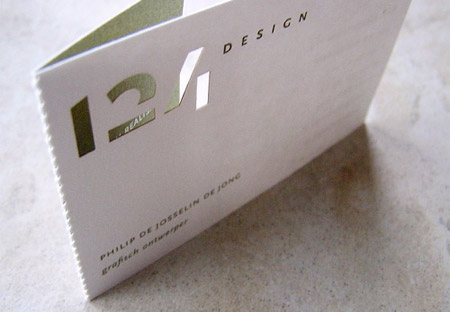 Imagine my delight when I saw that The New York Times magazine ran a cover story by Gary Wolf with the same title and theme as one of my recent posts: "The Data Driven Life".
It's a thoroughly researched piece about the trend of self monitoring, which, it turns out, has become a sizable sub-culture.  I have to admit that this came as a joyful epiphany to me.
Wolf's central insight is that conditions have arisen which will take a behavior (which is a natural inclination for many, but impractical for most) mainstream:
"Then four things changed. First, electronic sensors got smaller and better. Second, people started carrying powerful computing devices, typically disguised as mobile phones. Third, social media made it seem normal to share everything. And fourth, we began to get an inkling of the rise of a global superintelligence known as the cloud."
Here's a quick round up of some of the sites covered he covers:
Wolf himself has a blog with Kevin Kelly called The Quantified Self.  This is an extensive resource and has a library of film clips of talks from Quantified Self Meet Ups.
drinkingdiary.com is a very simple piece of software that allows you to keep an accurate tally of alcohol consumption, on the basis that what gets measured, gets better.
Moodscope is an online tracker of your mood or mental health, with the twist that it reports this information to your friends, on the basis that, "there's solid scientific evidence that the very act of knowing you're being watched can change the way your mind works for the better".
Goodreads allows you to keep track of and share the books you've read and what you thought of them.
Medhelp is a sophisticated mult-purpose site that includes a tracker for weight and exercise and other health indicators.
There are many others out there.  Clearly, these sites could become as addictive as the behaviors they purport to cure!
As an experiment on the efficacy of these sites, I've undertaken to monitor my drinking, weight and exercise habits for the next month and will report back on what effect self-monitoring has on me.
Art director Kristen Vasgaard selected Scott Hull Associates Clint Hansen to do a collection of classically inspired portraits for a new young adult book series for her publishing house Thomas Nelson.  She chose Clint because of his experience within museum display and collegiate hall-of-fame's.
The collection of 67 prints, which are targeted towards readers age 25-65, features historical figures in the science, art and literary community that spans centuries.  Clint's goal was to bridge the differences between the rather diverse timeline of people, and create a series of engaging historical portraits that maintain a consistent feel using a variety of resources and references, often of very poor quality or not existent.
The biggest challenge to this series was creating a consistent style of illustration when the source imagery was so varied.  For some illustrations they had actual photographs to reference, because the characters lived recently.  However, some people did not even have formal portraits to reference and we had to rely on other illustrations or iconography that was centuries old.
Kristen glows over Clint's results, "The overall effect is detailed looking and polished.  The final product exceeded our expectations. Clint's custom illustrations unify the series and add a sophistication and uniqueness that we would not have achieved without them.  Clint is great about meeting deadlines and is very easy to work with. He willingly makes any revisions or changes and has a great attitude."
This packaging design by Andrew Seunghyun Kim for Coca Cola bottles is a bold and something that Coca Cola should definitely consider doing. The new bottle design is 100% eco-friendly. It's slick, futuristic and vastly different from Coca Cola's packaging which would be the reason they wouldn't pick this up.
The cap is 25% slimmer that the current 20oz bottles and 27% more eco-friendly because it greatly reduces the footprint. This design is 65% more collapsible than the current bottle encouraging more recycling due to ease in transport. Environmentally conscious people can easily collapse the bottle, carry it around until the can recycle.
http://www.dumblittleman.com/2010/04/6-useful-facebook-productivity-tips-you.html
I know, I know, Facebook and productivity are words that don't belong in the same sentence. I mean in many ways, these words are antonyms, just like night and day.
Well, I'd contend that it depends on your perception of the tool. Yes, it is a social network that's supposed to be used primarily for fun and staying in touch. But, there's a lot more to Facebook than just commenting on your friend's status. It's an information heaven. And unless you know how to use it productively, it is, as some call it, a waste of time.
This article attempts to introduce you to some practical Facebook productivity tips that you should be implementing when you are on this network. No, it doesn't lessen the fun; it actually adds to it. Check them out and share your opinion in the comments.
Set aside time
Here's the first tip - set aside time everyday for Facebook (if you visit it everyday that is). It could be multiple time intervals of, let's say, 15 or 20 mins or just one stretch of an hour or two. But set aside time and stick to that schedule. Sounds silly? Well, you have no idea how much time you end up spending on Facebook each day. This is the first step towards becoming productive with this site. Know how much time you spend there!
One more thing I'd recommend is using a timer to track the time when you are on Facebook. You should do it initially for a few days at least. Later, once you get used to the fixed time thing, you might not need the timer any more.

Create friend lists
You'd agree that there's a trend of randomly adding friends on Facebook, whether you know the person or not. You see a friend request, glance at the profile for a second or two and then add the person. I do it too and that's how I've got a huge list of Facebook friends. It's bigger than I can manage. But thanks to friend lists, I can filter information easily.
Creating friend lists in Facebook is a way to keep track of close friends and give priority to their updates. Here's an article that tells you how to create a friend list in Facebook chat. It helps you selectively appear offline to a group of people. You could also create friend lists by going to "Friends" on the left column in your home page and then clicking "Create List" tab on the top.

Master the privacy settings
I'd say it is very important to be aware of the various privacy settings in Facebook and how to set them according to your preferences. It could save you a lot of time and hassle in the long run. I know people who've spent days regretting joining Facebook because of things, they didn't know could happen, happened. And most of the time, it is because they were unaware of Facebook's privacy settings.
Here's a detailed article that talks about some important privacy settings in Facebook. It's an old article but it'll give you the picture. You could also explore by going to Account->Privacy Settings and see what are the options you have there.
Remove Annoying Apps
Most of us end up adding a lot of unnecessary applications to our Facebook account. And we keep getting those updates and notifications that increase clutter in the profile and news feed. Plus, there have been security issues with some apps in the past.
Removing the apps you hardly use is recommended. It'll clean up your profile too. Although Facebook doesn't make the process obvious, you can follow this step by step guide to remove the Facebook apps you don't need.

Filter Your News Feed
Filtering Facebook's news feed lets you segment information and see what matters first. Friend lists can help you filter information related to them. You could also check out the options in the left column to quickly skim through statusupdates, photos, events etc.

Use an email update tool like NutShellMail
By default, Facebook delivers email updates about your account to your inbox. And if you are very active Facebook user, it could mean a huge number of emails everyday.
The best way to go about it is turning off all the email updates (except for one or two important ones) and using a tool like NutShellMail that sends consolidated account email updates. I personally use this tool and have found it very useful. Even if I don't visit Facebook on certain days, it keeps me informed. And all that in a single email.
-Abhijeet Mukherjee